Service Above Self
We meet In Person
Thursdays at 7:15 AM
Hereford House
5001 Town Center Dr.
Leawood, KS 66211
United States of America

"Service is the Rent I pay for the space I occupy on the earth." - Dr. Mahesh Kotbagi, President Rotary International
A community cure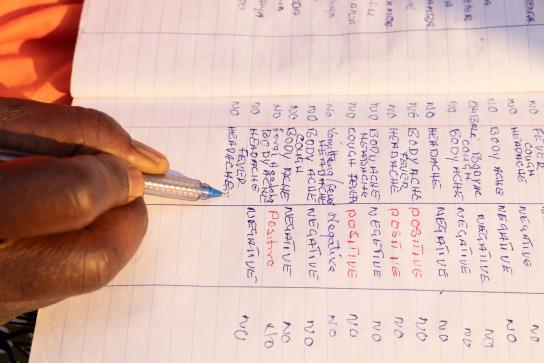 Backed by Rotary's Programs of Scale award, Partners for a Malaria-Free Zambia confronts a worldwide malady at the local level
"The Rotarian" back issues
Welcome to the Rotary Club of Leawood, KS
This week in Rotary News:
This past week, the Leawood Rotary Club heard a fascinating presentation from Mike Marcus. Mike told us about the excellent community work at Restoration Services and Thelma's Kitchen. Make sure you support this wonderful organization!
Leawood Rotary Club also held its monthly Reach Meeting at Bishop Ward High School. Lorna and Ron facilitated a discussion about Agility Advantage. They completed an online assessment to see where their strengths lie. Chief Yoder gave the students a vocational talk on his focus on volunteerism and how it inspired his law enforcement journey.
Click through photos below!
Upcoming Speakers:
Dec 1st:

Hemi Vatts- Rotary's India projects

Dec 8th:

Holiday Auction

Dec 15th:

Holiday Auction

Dec 22nd: NO MEETING
Upcoming Events:
Reminder: Don't forget about our Amazon Smile account. Go to smile.amazon.com and enter our club's charitable fund (Rotary Club of Leawood Kansas Charitable Fund Inc)
Leawood Rotary is collecting new and gently used coats for the Johnson County Christmas Bureau during the first two weeks of November. John Caton is the contact person - please be generous!
The UGLY Sweater Happy Hour! The event will be at Roxanne's place - Please note Roxann's correct address is 12710 Melrose St. The event is from 5:00 – 7:30 pm. Bring a dessert or appetizer. Don't forget to RSVP to Sara at saranylund@crownrealty.com
Making a Difference
Whether it's helping to once and for always eliminate Polio or mentoring local high school Juniors and Seniors for college success and scholarships, our club members are making a difference in the lives of others.

Founded in 1995, the Leawood Rotary Club has over 60 members taking action to improve the quality of life of those in need and helping youth develop learning and leadership skills. Our members include leaders in government, education and business who understand how to collaborate and make things happen.

When you join the Leawood Rotary Club, your potential to make a difference in the world grows exponentially. You're joining a network of over 1.2 million Rotarians in 31,000 clubs and 166 countries who take action — volunteers who share a goal of helping build goodwill and peace in the world, while improving the quality of life for others.

We see a world where people unite and take action to create lasting change — in our communities, around the world, and in ourselves.
Club Executives & Directors