Service Above Self
We meet In Person
Thursdays at 7:15 AM
Hereford House
5001 Town Center Dr.
Leawood, KS 66211
United States of America

"Service is the Rent I pay for the space I occupy on the earth." - Dr. Mahesh Kotbagi, President Rotary International
Rotary responds: support for Ukraine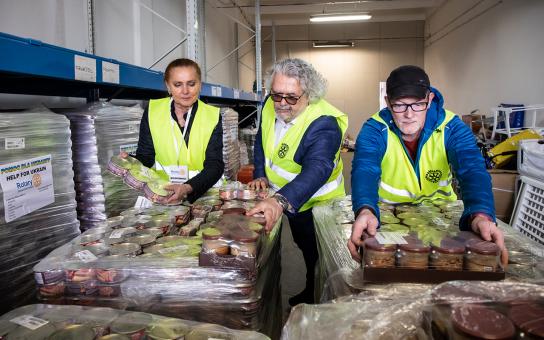 The Rotary Foundation and Rotary clubs around the world have hurried to provide funds, supplies, and services to Ukrainians displaced by the war.
"The Rotarian" back issues
Welcome to the Rotary Club of Leawood, KS
We held our annual Rotary Dinner at Vista 154. A number of well-deserving Rotarians won presigious awards!
A big thanks to Chuck Sipple for a well-organized, fruitful, and productive year as he passes the gavel to our new President, John Meier!
Click through some photos below!
Upcoming Speakers:
July 7th: Leawood Police Department & Citizen's Police Academy
Invocation: Lucy Bloom
Vocational: Mary Holland
Greeters: Martha E-R, Sonya E, Jodi F, Shane F, Mark G, Phil G.
July 14th: Brad Moore Overland Park Historical Society
July 21st: Morgan Henderson Ripple Glass (C)
Invocation: John Brown
Vocational: Rod Pemberton
Upcoming Events:
Unite KC walk for Unity, July 9th
Making a Difference
Whether it's helping to once and for always eliminate Polio or mentoring local high school Juniors and Seniors for college success and scholarships, our club members are making a difference in the lives of others.

Founded in 1995, the Leawood Rotary Club has over 60 members taking action to improve the quality of life of those in need and helping youth develop learning and leadership skills. Our members include leaders in government, education and business who understand how to collaborate and make things happen.

When you join the Leawood Rotary Club, your potential to make a difference in the world grows exponentially. You're joining a network of over 1.2 million Rotarians in 31,000 clubs and 166 countries who take action — volunteers who share a goal of helping build goodwill and peace in the world, while improving the quality of life for others.

We see a world where people unite and take action to create lasting change — in our communities, around the world, and in ourselves.
Club Executives & Directors